Just a splash away from Heritage Fountain, Capitol Lake, and Puget Sound. Our café is a gathering place for interesting people who enjoy good food.
"Stopped there yesterday with a friend and had a wonderful lunch and great little shopping experience at the gift shop too. Will return for lunch again, begat a treat!!"
LH – from Google Reviews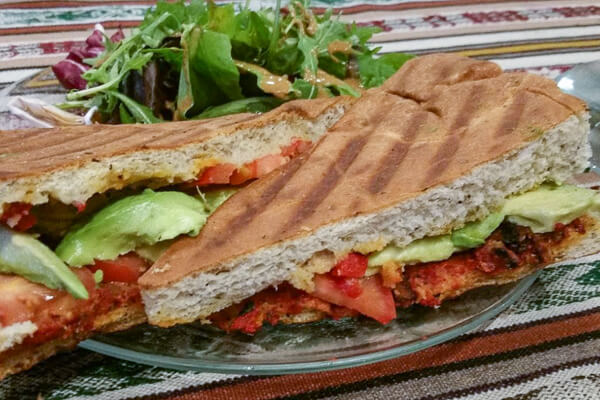 "Made from scratch chai, homemade soups and treats galore, music, social justice lending library, nice folks, and plenty of Fair Trade clothing and goods to make that other world possible! Best spot to share some time and a scoop of Olympic Mountain Ice Cream with a friend!"
PR – from Facebook Reviews


Entrees served with a small organic green salad with lemon tahini, olive oil vinaigrette, bleu cheese, or raspberry vinaigrette dressing. Substitute the side salad with a cup of soup for $2.25, a bowl for $3.25 or a half salad for $3.75

Paninis
Grilled Foccacia Bread sandwiches
Siciliano
Prosciutto ham, Havarti cheese, fresh Roma tomatoes and fresh basil pesto
Smoked Salmon
Smoked salmon, chevre goat cheese, sun-dried tomatoes, capers, mixed greens, lemon juice, olive oil.
Roma
Vegetarian with Provolone cheese, roasted red peppers, sun dried tomatoes, fresh Roma tomatoes, marinated artichoke hearts, mushrooms and fresh pesto.
Vegan
Soy bacon, avocado, roasted red peppers, fresh Roma tomatoes and sun-dried tomato pesto.
Vegan
Soy bacon, avocado, roasted red peppers, fresh Roma tomatoes and sun-dried tomato pesto.
Lasagna
Noodles with ricotta cheese, mozzarella, parmesan, onion herb tomato sauce, spinach and a slice of grilled bread.
Black Bean Enchilada
With cheese or avocado – Black beans and brown rice in a corn tortilla with homemade enchilada sauce, tomatoes, red onion and cilantro chutney.
Veggie Burger or Chicken Breast Sandwich
Cheddar cheese or avocado, tomato, red onion, lettuce, and Tibetan BBQ sauce.
Rice & Beans
Organic brown rice and black beans
*Add avacado, cheese, sour cream, chips
"Every time we eat at Traditions, we wonder why we don't eat there more often! Not only is the food of the highest quality, the atmosphere is very friendly. Plus, we know everything is fixed to the very highest standards. Prices are fair, or inexpensive. I learn about music, current events, and other issues that are of interest to me whenever I am there."
CC – from Yelp Reviews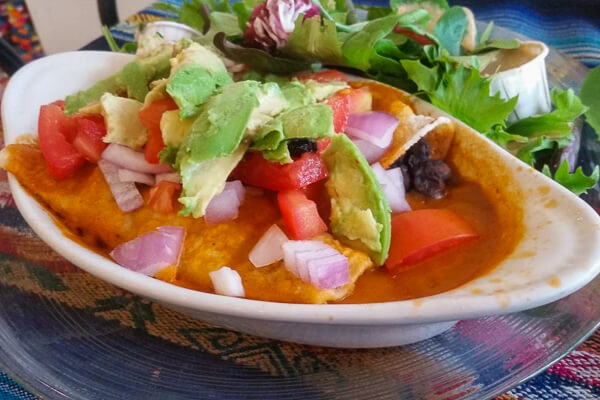 "You cannot go wrong in a place like this. Whether you are shopping for a special item for someone, to heading into their cafe for a bite. ... The food in the restaurant is very down home delicious. I got their tahini lemon brown rice salad and a bowl of their dahl soup. Truly enjoyed the flavors and the wholesome and hearty food."
SS – from Yelp Reviews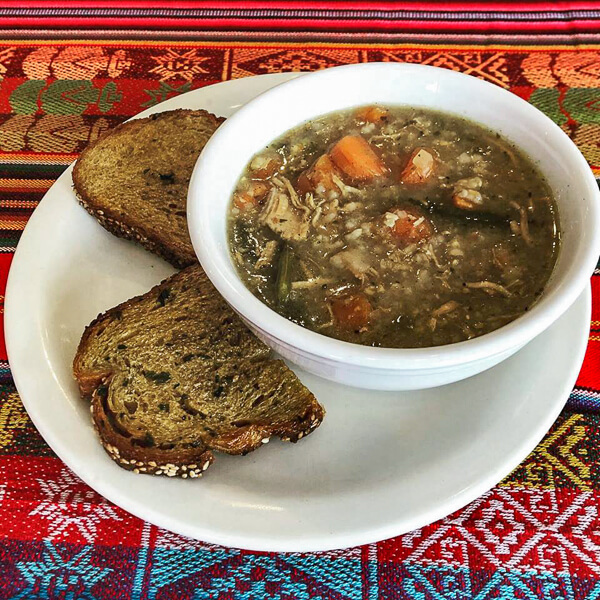 Organic soups and salads served with grilled bread or tortilla corn chips

Greek Salad
Cucumber, feta, Roma tomatoes, red onions, green peppers and Greek olives in an olive oil vinaigrette dressing.
*Add chicken breast $3.50, Nisqually Native smoked sockeye salmon $5.00, hard-boiled egg $1.50.
Lemon Tahini Salad
Roma tomatoes, mixed greens and brown rice with our lemon tahini dressing.
Smoked Salmon Salad
Organic mixed greens, smoked salmon, chevre goat cheese, seasonal fruit and roasted walnuts with oil vinaigrette or raspberry vinaigrette.
Tortilla Salad
Black beans, brown rice, Roma tomatoes, red onions, avocado, mixed greens in our olive oil vinaigrette dressing and tortilla chips.
Hummas
Organic red lentil hummus with corn chips or bread, cucumber, tomatoes and Greek kalamata olives.
*Gluten-free Bagel $1.00 extra.
With cream cheese, peanut butter, jam or red lentil hummus
With Nisqually Native smoked salmon cream cheese
Olympic Mountain Ice Cream
Pastries, cookies, bars, and more...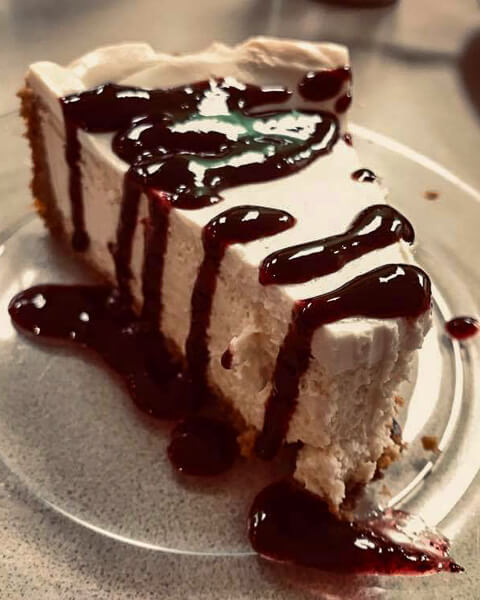 "Oh My. The Chai is a little piece of Heaven here. When you walk in you can smell the wonderful aroma of the Chai spices being prepared for the most delicious beverage you can have. My husband had the vegan enchiladas too and truly enjoyed them. I love to shop here for gifts too. This place is an Olympian treasure."
CB – from Facebook Reviews


All organic – coffee, milk, half & half, whipped cream, chocolate, hemp milk, soy milk, rice milk.